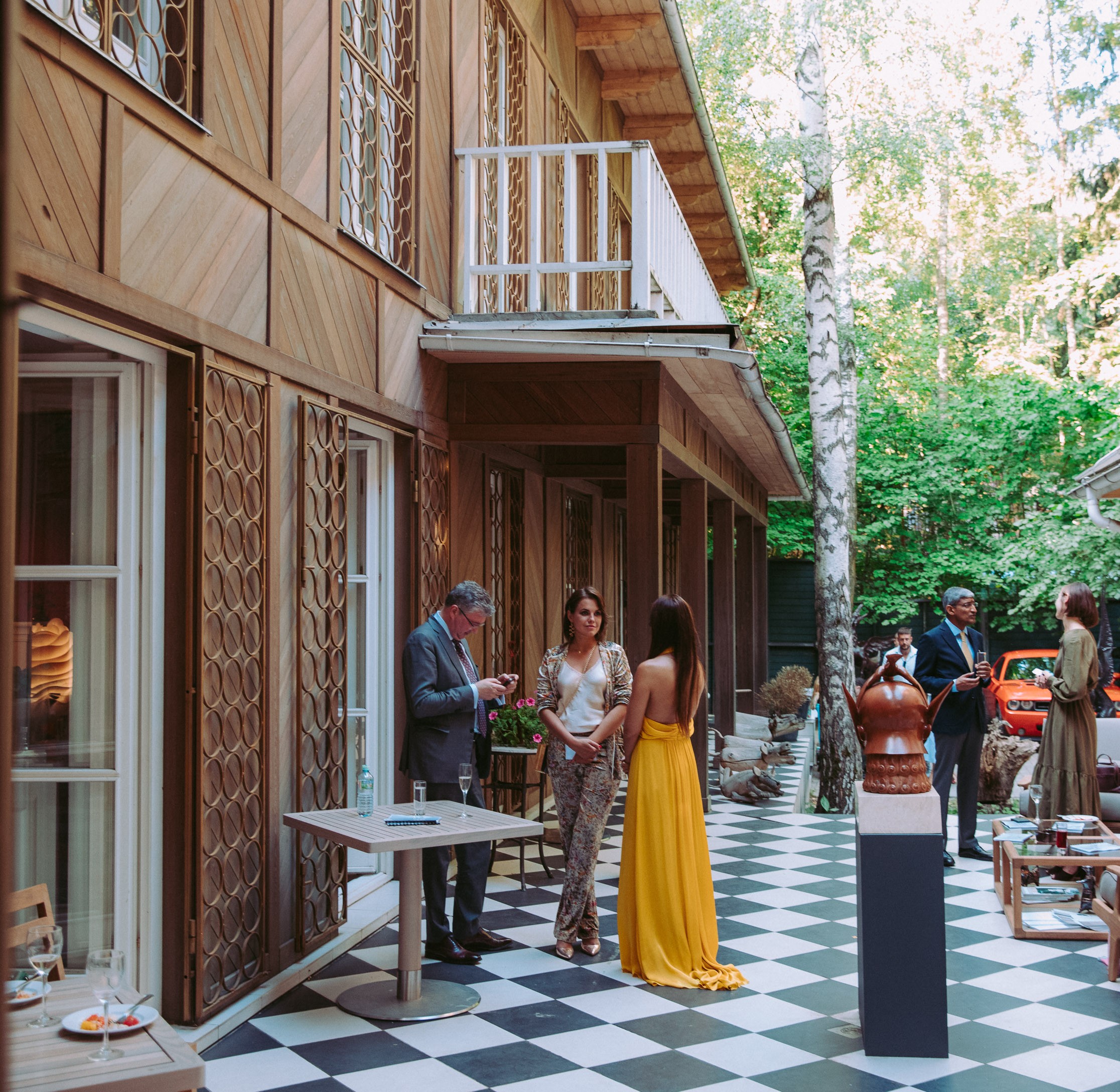 POLYOT ART AGENCY CREATES OUT-OF-THE-BOX SCENARIOS AND IMPLEMENTS UNIQUE EVENTS SUPPORTING MARKETING STRATEGIES AND PECULIARITIES OF ITS PARTNERS' POSITIONING IN THE LUXURY MARKET.
THE SPOTLIGHT OF EACH EVENT IS A COLLECTION OF WORKS BY ARTISTS SPECIFICALLY SELECTED FOR THE SCENARIO, FROM ANTIQUES TO THE MOST INNOVATIVE CONTEMPORARY ART. THE EVENING PROGRAM IS A UNIQUE MIX OF DIFFERENT ARTS, FINE FOOD AND DRINKS. POLYOT ART AGENCY HAS AN EXTENSIVE GUEST BASE FROM HNW TO TOP MANAGERS OF MAJOR COMPANIES.
OUR PARTNERS SINCE 2012: ROLLS-ROYCE, BMW, LAMBORGHINI, DIOR, KR PROPERTIES, KALINKA REAL ESTATE, DE BEERS JEWELLERS, BULGARI, OPENING BANK, ROS BANK SOCIETE GENERAL, PWC, BX BANK, ETC.
1. ARCHITECTURAL AUCTION, NOVEMBER 26, 2021, ARCHITECTURAL CLUB SPACE IN GOSTINY DVOR. THE 47TH RUSSIAN ANTIQUE SALON  EVENT /PARALLEL PROGRAM/. THE ARRANGMENT OF POLYOY ART AGENCY.
PROJECT PARTICIPANTS: SERGEY KUZNETSOV, NIKOLAY POLISSKY, TOTAN KUZEMBAEV, YURYAVAKUMOV, DAVID PROZOROV, ALENA KIRTSOVA, NIKOLAY LYSLOV, SERGEY NIKESHKIN, ANNAMEDLEVA, YURY VISSARIONOV, ILYA MUKOSEY, SERGEY SKURATOV, JULIA MALININA, "MEGABUDKA" ARCHITECTURAL FIRM, ATRIUM ARCHITECTURAL STUDIO
2. THE FIRST PRE-EASTER CHARITY AUCTION OF CONTEMPORARY ART, AN EVENT OF THE PARALLEL PROGRAM AT ART MOSCOW/ Antique & Art Fair / 46TH RUSSIAN ANTIQUE SALON, APRIL 23, 2021, THE SPACE OF THE ARCHITECTURAL CLUB IN GOSTINY DVOR.
ORGANIZERS: VOBLAGO.CLUB AND POLYOT ART AGENCY
3. "FLOWERS & POWDERS",APRIL 17, 2021, NOVODARYINO ESTATE.
PROJECT PARTNER: DE BEERS JEWELLERY
4. "SPRING ART SHOW", ART INVESTMENT SOIREE. MARCH 25, 2021, NOVODARYINO ESTATE.
PROJECT PARTNERS: WOODWILL, INVESTAE, MARIA SHOSHEVA
5. PUBLIC TALK ON ALTERNATIVE INVESTMENTS AND ART SOIREE. NOVEMBER 27, 2019, ARCH CLUB AND POLYOT ART GALLERY  IN GOSTINY DVOR.
PARTNER AND PARTICIPANT IN THE PROJECT: ROSBANK SOCIETE GENERAL
6. DIAMOND GALA PRIVATE DINNER, APRIL 19, 2019, BIG MANEGE VENUE. PROJECT PARTNERS: "STOLITSA MILOSERDIYA" CHARITY FUND (AS PART OF THE INTERNATIONAL FAIR RA&AF), KR PROPERTIES AND KAIROS
7. "FACETS OF LIFE", MARCH 28, 2019, INOVODARYINO ESTATE.
PROJECT PARTNERS: BULGARI, LAMBORGHINI MOSCOW
8. "FAIRY TALE PRO", DECEMBER 5, 2018, NOVODARYINO ESTATE.
PROJECT PARTNERS: BMW, HENNESSY
9. "VOICE OF THE WIND",JUNE 28, 2018, NOVODARYINO ESTATE.
PROJECT PARTNERS: RUSNANO, BCS
10. PRIVATE EVENT, APRIL 19, 2018, NOVODARYINO ESTATE.
РPROJECT PARTNERS: BMW, DIOR, KALINKA GROUP
11. RA&AF, FEBRUARY 12, 2018, MANEGE
12. "FASHIONABLE PLEASURE",NOVEMBER 23, 2017, NOVODARYINO ESTATE.
PROJECT PARTNERS: BMW, MARIA SHOSHEVA
13. "FOLLOWING THE SUNBEAM", SEPTEMBER 14, 2017, NOVODARYINO ESTATE.
PROJECT PARTNERS: NESKUCHNY, RIM, SODIS
14. "ENGLISH PILOT",MARCH 26, 2014, THE CENTRAL HOUSE OF ARTISTS, KRYMSKY VAL (NEW TRETYAKOVKA), POLYOT ART GALLERY, OFFICE 6. PROJECT PARTNERS: ROLLS ROYCE MOSCOW
FLOWERS & POWDERS
WOMEN'S SPRING BRUNCH IN COLLABORATION WITH DE BEERS JEWELLERS BRAND
APRIL 17, 2021 | NOVODARYINO ESTATE
WHAT UNITES THE FAMILY COMPANY POLYOT ART AGENCY AND THE DE BEERS BRAND IS VALUES SHARING AND CONTINUITY OF GENERATIONS
THE EVENT STARTED WITH A WELCOME SPEECH OF THE POLYOT ART AGENCY FOUNDER AND AN EXPERT ON THE RUSSIAN ART MARKET  IRINA BYCHKOVA – ABOUT THE ROLE OF BEAUTY IN HISTORY AND CULTURE.
THE SPEECH WAS FOLLOWED WITH A SHORT LECTURE BY OLGA GOLITSINA, A CLINICAL PSYCHOLOGIST AND AN EXPERT FOR THE STATE TV CHANNEL NUMBER ONE. SHE TOLD ABOUT PERSONALITY AND STATED THAT BEAUTIFUL THINGS HELP PEOPLE FINDING THEIR RESOURCEFUL STATE.
THEN THE FLOOR WAS TAKEN BY LUDMILA BELOUSOVA, A REPRESENTATIVE OF DE BEERS. SHE SHARED SECRETS OF REAL DIAMONDS MINING AND PROCESSING, AS WELL AS BRAND'S CHARITABLE INITIATIVES.
BRUNCH SETTING WAS  ADORNED WITH FLORAL ARRANGEMENTS BY SOTVORI PODARI@SOTVORIPODARI. AND THE FLORAL COMPANY GAVE GUESTS AN UNFORGETTABLE MASTER CLASS ON CREATING THEIR OWN IKEBANAS.
SPRING ART SHOW AND ART INVESTMENT SOIREE
ART INVESTMENT BUSINESS EVENT SUPPORTED BY WOODWILL AND INVESTAE COMPANIES
MARCH 25, 2021 | NOVODARYINO ESTATE
GUESTS FOUND THEMSELVES AT A CHARMING WELCOMING WINE SHOW WITH GUESSING WORKS OF ART. PAINTINGS BY ARTISTS OF DIFFERENT AGES AND TRENDS WERE CODED WITH THE TASTE OF EXQUISITE WINES: PINK CHAMPAGNE, WHITE CHARDONNAY AND RED AMARONE.
THE BUSINESS PART OF THE SOIREE INCLUDED A PRESENTATION OF THE WOODWILL COMPANY'S UNIQUE ACTIVITY AND SPEECH OF GERALD AUTIER, AN EXPERT AND AUTHOR OF BOOK ON ALTERNATIVE INVESTMENTS. HE SPOKE IN AN APPROACHING MANNER AND USED ANIMATION TO SUPPORT THE MAIN ASPECTS OF INVESTING INTO OBJECTS OF PASSION: COLLECTORS' VEHICLES, GEMS AND WORKS OF ART. HIS STRATEGY WAS TAKEN OVER BY THE OWNER OF POLYOT GALLERY IRINA BYCHKOVA, WHO INVITED THE GUESTS TO CONSIDER THE MOST PRECISE APPROACHES TO INVESTING IN RUSSIAN ARTISTS AND ART MUTUAL FUNDS.
LIVE MUSIC, EXQUISITE FRENCH DISHES AND BEVERAGES INVITED GUESTS TO SOCIALIZE. A NEW COLLECTION OF STUNNING FURS BY THE FAMOUS  DESIGNER MARIA SHOSHEVA WAS DEMONSTRATED. IN A WHILE GUESTS COULD CHOOSE TO SPEND THEIR TIME EITHER IN A CIGAR LOUNGE OR AT A CAMPFIRE OUTDOORS. THE EVENING ENDED WITH DISCUSSIONS ABOUT ARTISTS, PAINTINGS, SCULPTURES AND OBJECTS ON DISPLAY UPSTAIRS UNDER THE ROOF OF POLYOT ART GALLERY.
THE EXHIBITION FEATURED CONTEMPORARY ARTISTS: VLADIMIR SEMENSKY, ALEKSEY ALPATOV, ALEKSEY KOLESNIKOV (TOGETHER WITH GALLERY 11.12), NON-CONFORMIST VALERY TRYAMKIN, AND INVESTMENT GRAND MASTERS: PABLO PICASSO, MARC CHAGALL, SALVATOR DALI; ILIA GAPONOV, ALEX KUZNETSOV. EVERY ATTENDEE COULD GAIN BOTH NEW KNOWLEDGE AND NEW CONTACT POINTS, AND WHAT IS MORE IMPORTANT – REAL COLLECTIBLES THAT CHANGE OUR LIVES AND MAKE IT AMAZINGLY ALLURING.  
PUBLIC TALK AND ART SOIREE 
PUBLIC TALK REGARDING ALTERNATIVE INVESTMENTS AND ART SOIREE TOGETHER WITH ROSBANK SOCIETE GENERAL
NOVEMBER 27, 2019 | ARCH CLUB AND POLYOT ART GALLERY IN GOSTINY DVOR
THE HOST OF THE EVENING AND THE DISCUSSION MODERATOR WAS NIKOLAY USKOV, THE PRESIDENT OF FORBES.
PARTICIPANTS: GERALD AUTIER, INVESTMENT EXPERT, CREATOR OF THE INVESTAE ALTERNATIVE INVESTMENTS RESEARCH PLATFORM, AUTHOR OF THE BOOK "OUT OF A LINE!", SPEAKER ON INVESTMENT STRATEGIES OF THE RUSSIAN PRESIDENTIAL ACADEMY OF NATIONAL ECONOMY, GRIGORY BALTZER, CREATOR OF THE AUCTION AGENCY, IRINA BYCHKOVA, CREATOR OF POLYOT ART AGENCY  AND EXPERT ON ART MARKET, ULAN ILISHKIN, DEPUTY CHAIRMAN OF ROSBANK.
AFTER PRESENTING HIS NEW BOOK ON INVESTMENTS GERALD AUTIER DESCRIBED THE CHALLENGES FOR ART INVESTORS. THE PARTICIPANTS DISCUSSED POSSIBILITIES AND TECHNOLOGIES OF INVESTING AND ART OBJECTS COLLECTING. ULAN ILISHKIN PRESENTED THE UNIQUE PROGRAM OF ROSBANK "L'HERMITAGE". GUESTS AND PARTICIPANTS HAD A CHANCE TO ADDRESS THEIR QUESTIONS ON ALL LIVELY ISSUES TO THE ART MARKET PROFESSIONALS.
AFTER A ROBUST DISCUSSION IT WAS TIME FOR A BEAUTIFUL AND COZY ART SOIREE AT POLYOT ART GALLERY. ATTENDEES COULD GET A SIGNED BOOK BY GERALD AUTIER AND ASK THEIR QUESTIONS IN A BEHIND-THE-SCENES, SOCIALIZING ATMOSPHERE.  ALL THIS TOOK PLACE AMONG BEAUTIFUL WORKS OF POLYOT ART GALLERY ARTISTS: ALEX KUZNETSOV, OKSANA MAS, VALERY PESIN, LYUDA KONSTANTINOVA.
AS USUAL, COLLECTORS, INVESTORS, GUESTS AND FRIENDS OF POLYOT ART GALLERY ENJOYED A PLEASING CATERING IMCLUDING FRENCH CHAMPAGNE AND AN OYSTER BAR FROM THE COMPANY KAIROS. AND MOST IMPORTANTLY EVERYBODY GOT COZY RELAXED COMMUNICATION WITH ART MARKET PROFESSIONALS READY TO OFFER THEIR CLIENTS THE MOST COMFORTABLE AND REASONABLE TECHNOLOGIES OF ART INVESTING.
DIAMOND GALA
A PRIVATE DINNER IN COOPERATION WITH THE "STOLITSA MILOSERDIYA" CHARITY FUND (AS PART OF THE INTERNATIONAL FAIR RA&AF), KP PROPERTIES & KAIROS | APRIL 19, 2019 | BIG MANEGE VENUE
BIG MANEGE, A LEGENDARY EXHIBITION HALL IN THE HEART OF MOSCOW, WAS DECORATED TO LOOK LIKE FACETS OF A DIAMOND. THE MAGNIFICENT MULTIMEDIA WALL FEATURED A DIAMOND GALAXY SHOW, WHERE THE DIAMONDS IN SEASON COLORS WERE TAKING TURNS, MATERIALIZING INTO MASTERPIECES OF JEWELRY. THE DINNER TABLES SPARCKLED WITH SCATTERINGS OF LARGE CRYSTALS. ELEGANT CATERING WITH AN OYSTER WAS IN TUNE WITH SHIMMER OF GOLDEN CHAMPAGNE.    
DIAMOND GALA WAS GENEROUS FOR WARM GREETINGS FROM ITS ORGANIZERS AND PARTNERS – REPRESENTATIVES OF POLYOT ART GALLERY IRINA BYCHKOVA AND SOFIA BYCHKOVA, THE PRESIDENT OF THE "STOLITSA MILOSERDIYA" CHARITY FUND JANINE ZICH AS WELL AS KR PROPERTIES AND KAIROS COMPANIES.
KR PROPERTIES COMPANY UNVEILED ITS NEW PROJECT FOR THE LUXURIOUS RESTORATION AND RENOVATION OF THE KUZNETSKY MOST QUARTER, 12, IN COLLABORATION WITH LEGENDARY LALIQUE OPENING ITS BOUTIQUES AND ART SPACES IN THE HISTORIC CENTER OF THE CAPITAL.
THE CONCERT PROGRAM AMAZED THE GUESTS WITH ITS HIGH ART: SYMPHONIC MUSIC PERFORMED BY THE MOSCOW CONSERVATORY ORCHESTRA, AS WELL AS EXQUISITE FRAGMENTS FROM THE "CINDERELLA" AND "THE NUTCRACKER" BALLETS. A PHOTO SHOOT CAPTURED SPLENDID GUESTS OF UNFORGETTABLE  DIAMOND GALA ON HIGH BALCONY OF THE MANEGE OVAL STAGE AGAINST THE BACKGROUND OF SPARKLING STANDS WITH ANTIQUE ITEMS AND JEWELRY.
AFTER DINNER GUESTS EXPERIENCED VIP TOURS GUIDED BY THE FAIR ORGANIZERS.  WONDERFUL MASTERPIECES COLLECTED BY THE BEST GALLERIES OF CONTEMPORARY, ANTIQUE AND JEWELRY ART GURANTEED SPRING INSPIRATION TO  COLLECT ART.
"FACETS OF LIFE"
A PRIVATE EVENT CO-HOSTED BY BULGARI AND LAMBORGHINI MOSCOW
MARCH 28, 2019 | NOVODARYINO ESTATE
IT WAS SETTLED THAT A COLLECTION OF HIGH JEWELRY WOULD BE DELIVERED FROM ITALY SPECIFICALLY FOR THE EVENT.

AN ART HISTORIAN AND A REAL EXPERT ON JEWELRY  SERGEY YANG WAS INVITED AS A SPEAKER. HE GAVE A TERRIFIC LECTURE ON THE HISTORY OF BULGARI.
LAMBORGHINI URUS ON DISPLAY PERFECTLY COMPLEMENTED THE SOIREE, SINCE ITS LUXURIOUS DESIGN CLEARLY MATCHED THE DNA OF BULGARI.

THE SOIREE REPRESENTED ITALY IN ALL THE WAYS: EXQUISITE CUISINE, MUSIC AND ATMOSPHERE.

IN THE THIRD FLOOR THERE WAS A NEW EXHIBITION INCLUDING WORKS BY KIRILL YAKOVLEV. HIS PIECES OF ART WERE SELECTED IN A MANNER SIMILAR TO SHIMMERING FACETS OF THE JEMS IN THE BULGARI JEWELRY.
"FAIRYTALE  PRO"
NEW YEAR'S EVE WITH BMW AND HENNESSY 
DECEMBER 5, 2018 | NOVODARYINO ESTATE
THE MANOR OUTDOORS AND INDOORS WERE UNITED WITH THE ATMOSPHERE OF NEW YEAR'S EVE WHEN FAIRYTALES COME INTO BEING.
THE ANCHOR PARTNER OF THE EVENING WAS BMW COMPANY PRESENTING NEW BMW 8 SERIES. LIVE LIGHTS LED GUESTS FROM THE FRONT YARD TO A PLATFORM WHERE BMW 8 SERIES WAS SHINING.
THE ENTRANCE TO THE MANOR WAS DECORATED LIKE A GINGERBREAD HOUSE WITH A CHRISTMAS TREE NEARBY.  ON THE TREE THERE WERE COLOURFUL TOY BMW CARS, AS WELL AS ORNAMENTS REPRESENTING PARTNERSHIP BRANDS WITH CHRISTMAS BOWS
BELOVED NEW YEAR'S EVE DISHES WERE SERVED AT A COZY HOME DINNER. FOR MORE IMMERSION INTO THE FAIRYTALE ATMOSPHERE THERE WERE "GIFTS" HIDDEN IN DIFFERENT PARTS OF THE HOUSE. FRAGMENTS FROM BALLETS BASED ON HOFFMANN'S FAIRYTALES (MOSTLY FROM "THE NUTCRACKER") WERE THE MUSICAL ACCOMPANIMENT OF THE EVENING.
FINALLY, A COLLECTION OF ANTIQUE TRAVELLING LOCKERS WAS PRESENTED EVCLUSIVELY AT THE 67th EVENING PARTY. MOREOVER, IN THE GALLERY UNDER THE ROOF GUESTS COULD SEE WORKS BY THE FAMOUS LONDON PHOTOGRAPHER SASHA GUSOV. HIS COLLECTION WAS  DEVOTED TO  THE BOLSHOI THEATER.  PAINTINGS BY YOUNG ARTISTS SHOWING DYNAMICS, SPACE DEVELOPMENT, CAPTURED MOMENT OF MATERIALIZED FAIRYTALE WERE ALSO PRRESENTED IN THE GALLERY. 
"VOICE OF THE WIND"
A SUMMER SOIREE ORGANIZED WITH THE SUPPORT OF FRIDA PROJECT FOUNDATION AND BCS GLOBAL MARKET
JUNE 28, 2018 | NOVODARYINO ESTATE
THE GUESTS DIPPED THEMSELVES INTO MAGICAL AND UNFORGETTABLE ATMOSPHERE FILLED WITH VISUAL, AUDITORY AND GASTRONOMIC ART.
THE EVENT STARTED WITH TASTING OF RARE WINES AND COCKTAILS BY ONEGIN COMPANY,  WALKING AROUND THE HOUSE AND ENJOYING NEW COLLECTIONS OF MODERN AND ANTIQUE ART. A COLORFUL MOSAIC OF ETHNIC DISHES, FROM ISLAND CUISINE TO THE SPECIALTIES OF STEPPE FOLKS, ACCOMPANIED THESE ACTIVITIES.
THEN A DELIGHTFUL LECTURE GUIDED GUESTS TO THE WORLD OF ART AND BEAUTY.  DURING THE SOIREE, EVERYONE ALSO HAD A UNIQUE OPPORTUNITY TO SEE THE NEW COLLECTION OF THE OUTSTANDING SCULPTOR AND JEWELER DASHI NAMDAKOV AND TALK TO HIM IN PERSON. AFTER THAT THE GUESTS WERE INVITED TO THE PRIZE DRAWING FROM THE COMPANY BCS. 
THROUGHOUT THE WHOLE EVENT, GUESTS WERE SURROUNDED BY ZORIKTO DORZHIEV'S PAINTINGS ON DISPLAY IN THE GALLERY UNDER THE ROOF. LIVE ETHNIC MUSIC WAS PLAYED WITH AUTHENTIC INSTRUMENTS IN THE GARDEN AND IN THE MANOR.
THE SOIREE ENDED ON THE TERRACE WITH EVERYBODY AROUND THE FIRE ENJOYING THE SOUND OF AN ANTIQUE GRAND PIANO. FOR TH FANS OF THE WORLD CUP 2018 THERE WAS A SCREEN  LIVE BROADCASTING THE ENGLAND – BELGIUM GAME.