Alex Kuznetsov - UNTITLED BROWN, 2020 @ POLYOT ART AGENCY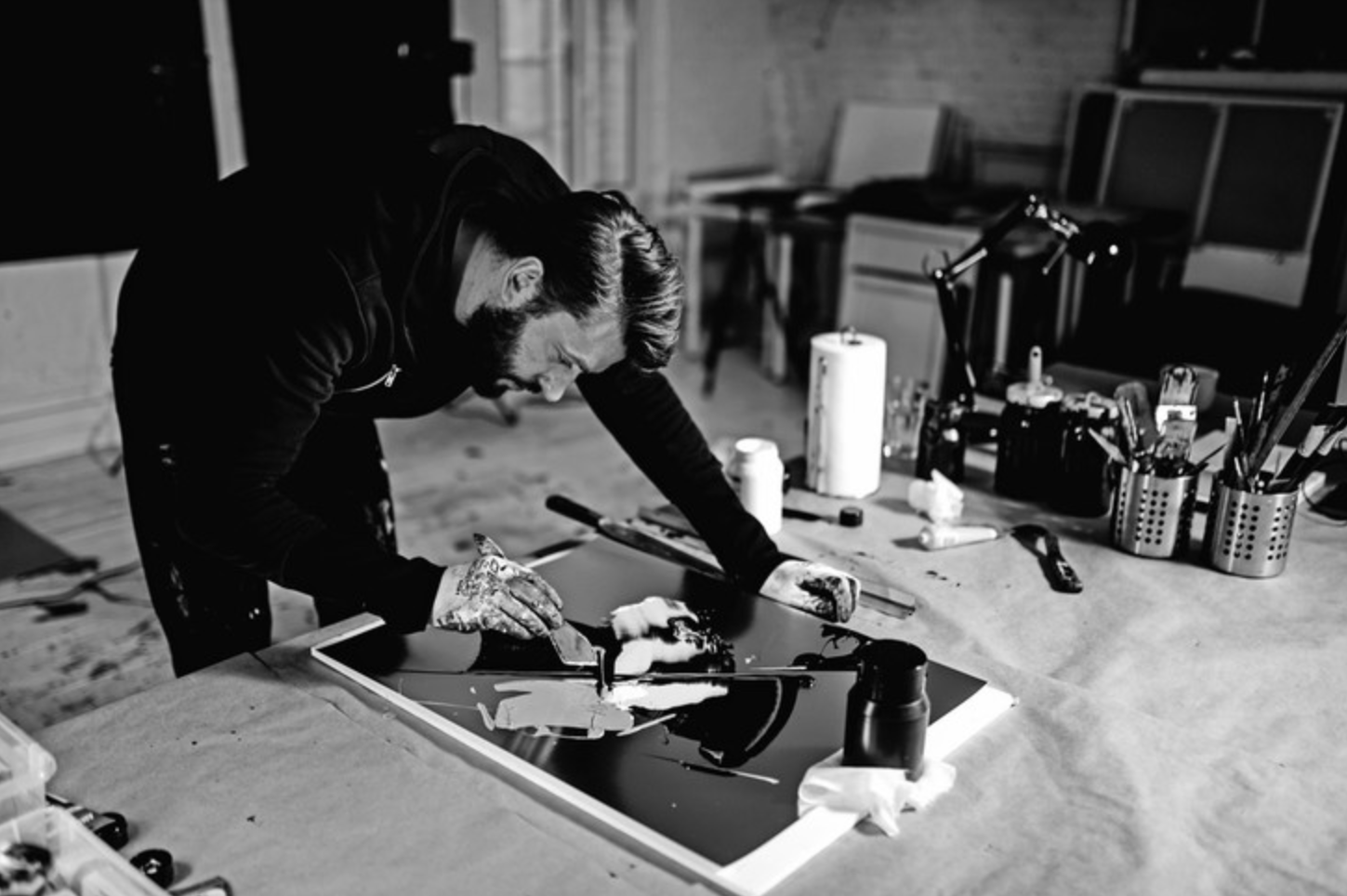 "Artists who have nurtured the interaction with the creative energy present in the nature of street art, hold much potential to transpire their work into the field of fine art."
Born in 1978 in Minsk, Belarus, his mother's family rooted in Vitebsk, Alex Kuznetsov was attracted to painting from early childhood years. He became a graphic designer, then discovered spray paint in 1997; thus, he began his journey in the world of street art. Signed with the nicknames of Liquid, Ners, Awek, Temos and Monk, his tags soon became well-known all over post-Soviet territories and Europe. On a visit to a Hong Kong commercial gallery in 2010, an enormous bright-red canvas captivated his imagination and impressed Alex with the power of pure colour. Later in the same year, news of the Moscow metro bombing caught Alex on his balcony, staring at five canvases that a friend had left behind. Alex unpacked his sprays and started exploring a new direction. He never stopped. 
Alex Kuznetsov collaborates extensively with publications, brands and private institutions such as Vogue, AD Magazine, Absolut, Tumi, Adidas and Prince Albert II of Monaco Foundation. His solo exhibitions were held in Lida Historical and Art Museum, National Palace of Art and National Center for Contemporary Arts of the Republic of Belarus, Triumph Gallery Moscow, Museum of Moscow, MSK Eastside Gallery in Moscow, Speerstra Gallery in Switzerland and France, Mirus Gallery in San Francisco, USA. His work has been shown and collected worldwide, including in New York, San Francisco, London, Seoul, Hong Kong, Brussels, Geneva, Paris, Monaco, Barcelona, Moscow and Minsk.
MAIN EXHIBITIONS AND PROMOTIONS
SOLO EXHIBITIONS
Upcoming in 2022:
show @ Speerstra Gallery, Paris, France
2021
Another Output @ Triumph Gallery, Moscow, Russia, 2021
2020
Horizons / Ground Line @ National Centre of Contemporary Art state museum, Minsk, Belarus
2019
Horizons @ DK Gallery, Minsk, Belarus
2018
Liaigre Show @ 5th Avenue Atelier, Moscow, Russia
Variations @ Speerstra Gallery, Bursins, Switzerland
2016
Shift @ MSK Eastside Gallery, Moscow, Russia
2015
Visual Attractions @ Speerstra Gallery, Bursins, Switzerland
Reflections @ Charisma Art Space, Moscow, Russia
Black @ 3.14 Project Space, Moscow, Russia
2014
Metalism @ MSK Eastside Gallery, Moscow, Russia
2013
Abstractism @ Speerstra Gallery, Bursins, Switzerland
Abstract Spray Painting @ Montana Gallery, Barcelona, Spain
SELECTED GROUP EXHIBITIONS
Actual:
Public Art @ Belyaevo Gallery, Moscow, Russia
Upcoming in 2022:
Abstract Now @ James Baird Gallery, Pouch Cove, NL-Canada
Paper Works @ Speerstra Gallery, Bursins, Switzerland
Memento Mori @ Desván Blanco, Santa Cruz de Tenerife, Spain
2021
House NR.6 @ MIIT, Moscow, Russia
Moscow – Seoul: Common Ideas @ Museum of Moscow, Moscow, Russia
Pioneers @ Lida Historical and Art Museum, Belarus
2020
Group show @ Lida Historical and Art Museum, Belarus
"The 101" @ Adda Sarto Gallery, Paris, France
Nothing Box @ Basmanny Dvor, Moscow, Russia
2019
Exposición cajita/libro objeto @ Desván Blanco, Santa Cruz de Tenerife, Spain
Border @ National Palace of Art, Minsk, Belarus
2018
Camino Hacia Oriente @ La Recova art center, Santa Cruz de Tenerife, Spain
2017
UPAW @ Prince Albert II of Monaco foundation, Monaco
Mirus Gallery Anniversary @ Mirus Gallery, San Francisco
2015
New Wave Uncut @ MSK Eastside Gallery, Moscow, Russia
Urbanism @ Museum Moscow, Moscow, Russia
2014
A Major Minority @ 1AMSF Gallery, San Francisco, USA
2013
ST.Art 2013 European contemporary art fair, Strasbourg, France
Summer Group Show @ Speerstra Gallery, Bursins, Switzerland
2008
Paint Methods, Krasnoyarsk, Russia
Just Write My Name, Saint-Petersbourg, Russia
2007
Write 4 Gold, Chemnitz, Germany
Write 4 Gold, Moscow, Russia
Write 4 Gold, Warsaw, Poland
Graffiti Art group show @ Winzavod Contemporary Art Centre, Moscow, Russia
2006
Street Art group show @ The State Tretyakov Gallery, Moscow, Russia
Write 4 Gold, Warsaw, Poland
Meeting of Styles intl., Chemnitz, Germany
Meeting of Styles intl., Lyon, France
2005
Meeting of Styles Minsk, Belarus
2004
Vodka & Fish Tail @ National Palace of Art, Minsk, Belarus
Meeting of Styles Gomel, Belarus
2003
Realization @Extreme center, Moscow, Russia
Meeting of Styles Gomel, Belarus
Kofemolka, Cheboksary, Russia
2002
Meeting of Styles intl., Anwerpen, Belgium
Meeting of Styles intl., Almere / Amsterdam, Netherland
Meeting of Styles intl., Lodz, Poland

1999
Graffiti 2000, Moscow, Russia
ART FAIRS
2021
Cosmoscow Art Fair, Moscow, Russia
Vienacontemporary, Vienna, Austria
Russian Antique Salon, Moscow
Bridgeman Studio Award, shortlist, 2019
Write 4 Gold Russia, Winner, 2006
LE MILE magazine, October 2021
AD Architectural Digest, Dec-Jan 2018/2019, March 2020, March 2021
Elle Decoration, Nov 2018
"Mural Art 1", the Book, Publikat, Germany
"27 Addicts" the Book (Boris Schmelter), Munich, Germany
"Graffiti World: Street Art from Five Continents" the Book (Nicolas Ganz), Germany
Flofferz Magazine, Summer 2014
Dandylab Magazine, 2009
Molotok Magazine, 2003
"True Stilo" magazine, 2001